10th Global Baku Forum: Building resilience in a divided world: its impact on world peace
Printer-friendly version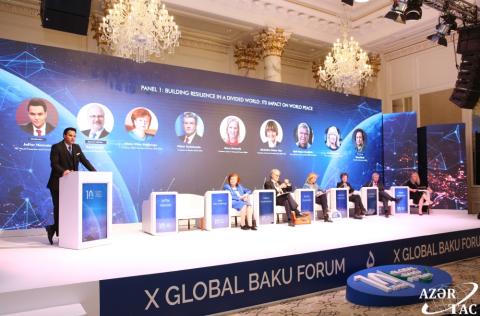 Baku, March 9, AZERTAC
Following the official opening ceremony, the 10th Global Baku Forum on "The World of Today: Challenges and Hopes" featured a panel session entitled "Building resilience in a divided world: its impact on world peace".
The participants of the first panel session of the Forum, moderated by the presenter and correspondent of TRT World TV Channel Jaffar Hasnain, watched the video prepared by the Nizami Ganjavi International Center (NGIC).
Then, a minute of silence was observed in memory of the victims of earthquake that struck Türkiye.
In his remarks, President of the Republic of Latvia Egils Levits highlighted the importance of security, as well as spoke about the climate change, which is currently one of the main problems of the world. "The main issue for states and individuals is security. As an example of threats coming from abroad and ongoing conflicts in the world, we can point to the Russia-Ukraine war in particular. It is the first time that the international event has reacted to this war. We must not allow wars to happen in the world. Conflicts in the world have changed the plans of many countries," he said.
President of Robert F. Kennedy Human Rights Kerry Kennedy touched upon the Russia-Ukraine war, saying that the participants of the forum come together to change the world and they must work hard to achieve a more just and peaceful world.
Co-chair of the Nizami Ganjavi International Center, former President of Latvia Vaira Vike-Freiberga stressed the need to develop international legal standards for the observance of human rights, adding that adherence to these laws is an important instrument to avoid chaos.
Former Prime Minister of Norway Kjell Magne Bondevik said that the current situation in the world is very different from what happened after the World War II, and emphasized the importance of having a stronger regional cooperation between countries.
Former President of the Swiss Confederation Micheline Calmy-Rey spoke about finding solutions to peace, as well as the new world order we are facing today.
Speaking at the event, Former President of Ukraine Viktor Yushchenko expressed his confidence that his country will win the war. "The main issue is now cooperation. It is important for us to establish a new security system in the world," he emphasized.
The panel session continued with discussions.