Arnous, AAAID Chairman discuss prospects for future cooperation
Printer-friendly version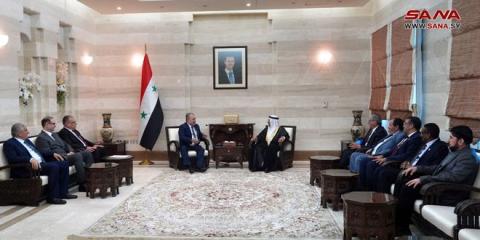 Damascus, SANA- Prime Minister, Engineer Hussein Arnous, met on Wednesday with Chairman of the Arab Authority for Agricultural Investment and Development (AAAID), Mohamad bin Obaid Al Mazrouei, and the accompanying delegation.
Talks during the meeting dealt with mechanisms of joint action and prospects for future cooperation between the Syrian government and the Arab Authority for Agricultural Investment and Development.
Cooperation in the use of the outcomes of scientific research and advanced technologies to increase production of all crops were also on the table.
Engineer Arnous noted that investment is one of the most important components of achieving sustainable, balanced and comprehensive development, and it is necessary to choose appropriate agricultural investments to confront the global food crisis.
He underlined the importance of joint agricultural investment among the Arab countries to reach Arab agricultural integration and achieve self-sufficiency and food security for the Arab peoples.
The Prime Minister affirmed the availability of suitable grounds and advantages required for agricultural investment in Syria.
For his part, Al Mazrouei added that the Authority is working to invest the capabilities available in the Arab countries to meet the growing demand for food and to strengthen the mechanisms of marketing and agricultural trade exchange in the Arab world.
He expressed desire to increase the authority's investments in Syria in cooperation with government institutions, and to establish new projects for the agricultural sector in manufacturing and animal production.