Bahrain concludes participation in 76th WHA session
Printer-friendly version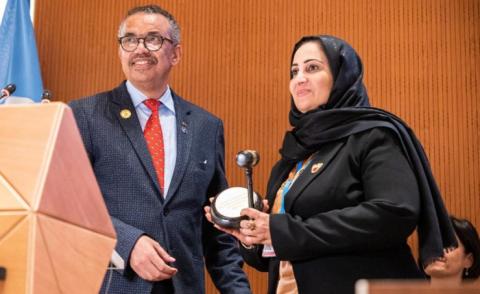 Manama, May 30 (BNA): The World Health Assembly (WHA) main committee has today convened for its final session in Geneva, Switzerland.
Health Minister Dr. Jaleela bint Al Sayyed Hasan Jawad chaired the panel which deals with important technical issues such as health systems, universal health coverage, and emergency preparedness and response.
Addressing the session, she noted the important discussions which were held during the 76th WHA session on May 21-30, focusing on future health challenges.
She extended thanks and gratitude to His Majesty King Hamad bin Isa Al Khalifa and His Royal Highness Prince Salman bin Hamad Al Khalifa, the Crown Prince and Prime Minister for their unwavering support to the health sector in the Kingdom of Bahrain.
The minister commended regional directors and the WHO team, head by director-general Dr. Tedros Adhanom Ghebreyesus, for their continuous support
She commended the efforts made by Ambassador Dr. Yousef Abdul Karim Bucheeri, Director General for Legal Affairs and Human Rights, and for the Permanent Mission of the Kingdom of Bahrain to the United Nations in Geneva and the accompanying delegation.