EAEU International Medical Forum kicks off in Bishkek
Printer-friendly version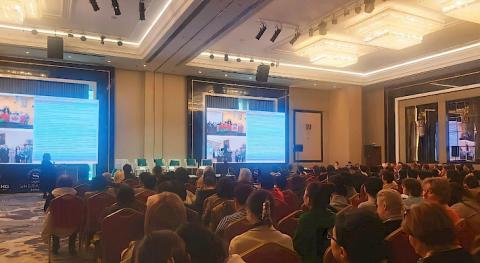 Bishkek, March 30, 2023. / Kabar /. The opening ceremony of the International Medical Forum of the Eurasian Economic Union "Modern trends in the development of cardiology and cardiac surgery in the EAEU countries" and the annual international scientific and practical conference "Mirrakhim Readings" dedicated to the memory of the outstanding scientist and clinician, academician Mirsaid Mirrakhimov took place in Bishkek.
Director of the National Center for Cardiology and Therapy named after Mirrakhimov Talant Sooronbaev said that cardiovascular diseases are a very urgent social and medical problem in the EAEU countries due to high rates of mortality and disability, which requires combining their efforts to develop joint strategies and create new highly effective models and systems for organizing medical care for patients with cardiovascular diseases. Thus, the healthcare systems of these states are united by a common goal: to improve the health of the population through the provision of high-quality and affordable medical services.
"In this regard, the discussion of the development of cooperation between the member states in the field of healthcare, the exchange of experience and best practices in the implementation of high technologies in practical medicine are particularly relevant," he said.
The organizers of the forum are the Ministry of Health of the Kyrgyz Republic, the National Center for Cardiology and Therapy with the support of the Eurasian Economic Commission (EEC) with the participation of leading scientific and medical centers of the EAEU countries.
The purpose of the forum is to provide an opportunity to demonstrate the modern achievements of the EAEU member states in the field of healthcare, the exchange of experience in the introduction of innovative technologies and pharmaceutical products in practical healthcare.
The program of the forum is focused on the introduction of the latest technologies in the field of cardiology and cardiac surgery, the improvement of a highly efficient system of medical care at all levels of health care, the creation and development of expert cardiological centers and the training of new generation specialists in accordance with international standards.