Foreign journalists eyewitness Armenian atrocities committed in Aghdam
Printer-friendly version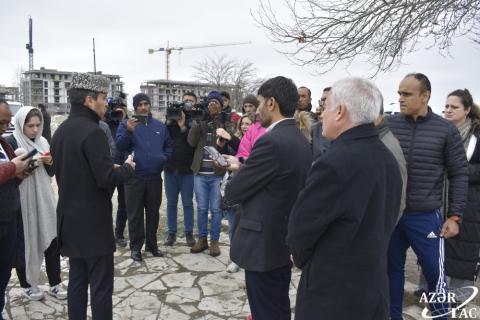 Aghdam, March 4, AZERTAC
A group of foreign media representatives, who arrived in Azerbaijan to cover the Summit-level Meeting of the Non-Aligned Movement Contact Group in response to COVID-19 held in Baku, have visited liberated from Armenian occupation the city of Aghdam to witness the atrocities committed by Armenians there.
AZERTAC's regional correspondent reports that the visit's main goal is to acquaint foreign media representatives with the acts of barbarism committed by Armenians in Aghdam, as well as the restoration and reconstruction works carried out in the liberated territories.
Foreign media representatives, who first arrived in the village of Sarijali, were informed about Armenia`s massive contamination of liberated territories with mines, as well as demining works carried out by Azerbaijan in these territories.
As part of the trip, the journalists familiarized themselves with residential buildings, civilian facilities, religious, cultural and historical monuments destroyed by Armenia during the occupation of Aghdam city, and visited the Imarat Complex, Panah Ali Khan`s Palace, Juma Mosque, the remains of the Drama Theater building, as well as the Martyrs` Alley that was looted and destroyed.
The journalists were informed in detail about the history of Aghdam, the current situation, Armenian fascism unleashed in the district, as well as the vandalism against Azerbaijan's historical, religious and cultural sites. They were told that before the Armenian occupation, Aghdam was one of the largest and most developed cities not only in the Karabakh region, but in the entire country. However, after the city was seized by Armenia, all the residential infrastructure, including apartment buildings, kindergartens, schools, and hospitals were demolished, production facilities, as well as Aghdam's Alley of Martyrs were looted and destroyed.
The guests also visited ruins of Imarat cemetery. It was noted that the Imarat cemetery contained the tombs of Panahali khan, the founder of the Karabakh khanate, as well as the tombs of Ibrahimkhalil khan and his son Mehdigulu khan, daughter of Mehdigulu khan, poet Khurshidbanu Natavan. Other prominent descendants of the Karabakh khans have also been buried in this cemetery. After the Armenian occupation of Aghdam, the cemetery has been vandalised and desecrated by Armenians, who destroyed the tomb of Ibrahimkhalil Khan and the tombstone of Natavan. The Palace of Khan was turned into a piggery and stable.