Foreign media representatives eyewitness Armenian vandalism committed in Fuzuli
Printer-friendly version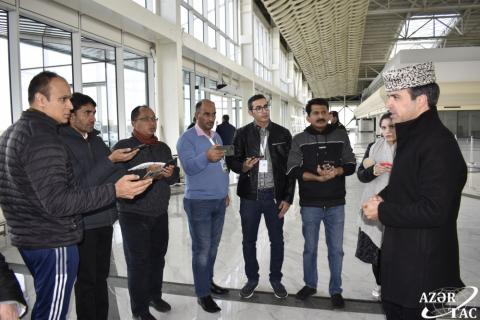 Fuzuli, March 4, AZERTAC
The group of foreign media representatives, who arrived in Azerbaijan to cover the Summit-level Meeting of the Non-Aligned Movement Contact Group in response to COVID-19 held in Baku, have today visited the liberated from Armenian occupation Fuzuli district.
AZERTAC's regional correspondent reports that an employee of the Special Representative Office of the President of Azerbaijan Araz Imanov informed the foreign journalists, who arrived at the Fuzuli International Airport, about the restoration and reconstruction works carried out in the liberated territories, as well as the large-scale infrastructure projects such as Fuzuli and Zangilan International Airports.
Known as the air gateway to Karabakh, the Fuzuli International Airport is constructed with the highest international standards, enabling it to accommodate any type of aircraft.
The journalists also familiarized themselves with the Armenian barbarism in Merdinli village. Armenian vandals have looted and wiped out Azerbaijani villages during the 30-year-long occupation. All houses, social facilities and farms were destroyed. The enemy used the mosque in Merdinli village as a stable for cattle, they demonstrated their hatred against the Azerbaijanis.
The village cemetery was also subjected to Armenian vandalism - graves were destroyed, gravestones were removed.
The foreign media representatives were also informed about Armenia`s massive contamination of liberated territories with mines, as well as demining works carried out by Azerbaijan in these territories.
The journalists then visited the Ashagi Kondalanchay reservoir in Fuzuli district. After the occupation of Fuzuli district by Armenian armed forces in 1993, exploitation of the reservoir by Azerbaijan became impossible.
They also witnessed atrocities committed by Armenians in the city of Fuzuli. All houses, social facilities, historical and cultural monuments were looted and destroyed. The journalists were informed about the restoration works carried out in the city.
After familiarizing with Armenian atrocities in Fuzuli, the guests headed to Shusha.