Gunay Afandiyeva meets with Secretary General of Organization of Turkic States
Printer-friendly version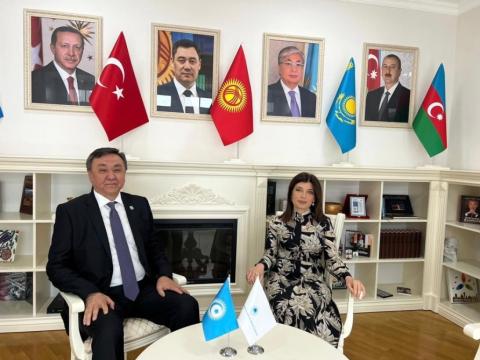 Baku, March 4, AZERTAC
President of the International Turkic Culture and Heritage Foundation Gunay Afandiyeva has met with Secretary General of the Organization of Turkic States (OTS) Kubanichbek Omuraliyev to discuss OTS's role in large-scale activities for sustainable development of multilateral relations among Turkic states.
The discussions were also concerned with the progress achieved by the both organizations to further cooperation with the member and observer countries.
On the recent strong earthquakes in Türkiye caused great moral upheaval in the entire Turkic world, the pairs noted that they would continue their support to the country.
They discussed both organizations' plans for 2023 and the importance of further strengthening cooperation.