Ha Nam pledges to facilitate operation of Taiwanese investors
Printer-friendly version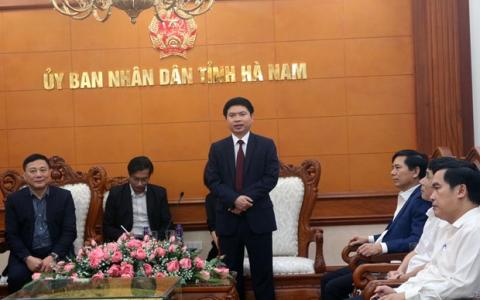 Ha Nam, February 22 (VNA) – The northern province of Ha Nam wishes that businesses from Taiwan (China) will pour more investments in the locality, a provincial official said on March 21, pledging to facilitate their operation.
At a working session with a delegation of Taiwanese firms who came to learn about the local investment environment, Chairman of the provincial People's Committee Truong Quoc Huy said over the past years, even during the COVID-19 pandemic, Ha Nam maintained a high growth rate, as compared with other localities in the Red River Delta and in the country.
Ha Nam is in the top 10 localities nationwide in terms of foreign direct investment (FDI) attraction, he added, briefing the participants on its advantages in geography and transport infrastructure.
The province will work to ensure infrastructure, provide essential services for investors, speed up administrative procedures, support enterprises in personnel training and housing for workers, and create the best possible conditions for them to expand operation, Huy noted.
Nguyen Tuan Hai, Chairman of Alphanam Group, stressed that Taiwan firms are interested in production and businesses in cities and provinces around Hanoi, including Ha Nam.
The participating enterprises have strengths in industrial park infrastructure construction, real estate and commerce, for which Ha Nam has great demand, especially housing for workers and foreign experts, and infrastructure development at industrial parks and urban areas, he stressed.
The business delegates expressed their wish that local leaders will help them with investment procedures.
Ha Nam is home to eight industrial parks which have been put into operation, and plans to build four others. It is calling for investments in environmentally friendly manufacturing and support industries, high-tech agriculture, tourism, services, health care, education, personnel training and social housing./.