Shortlink :
https://oananews.org//node/667937
The shortlink copeid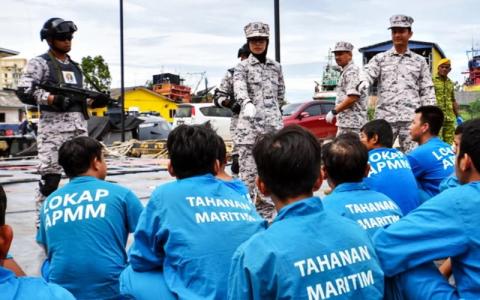 Malaysia nabs four fishing vessels, 43 Vietnamese fishermen
PASIR PUTEH (Malaysia), Sept 24 (Bernama) -- The Malaysian Maritime Enforcement Agency (MMEA) detained four fishing vessels and 43 Vietnamese fishermen, including their skippers, for illegal fishing in the country's waters on Thursday.
The Deputy Director (operations) of Kelantan MMEA, Maritime Commander Khairun Dalilah Baharun, said that the illegal fishing vessels were discovered during operations by an enforcement vessel approximately 125 to 150 nautical miles from the Tok Bali estuary in the state of Kelantan.
She said two of the boats were detained at 8.18 am and 9.01 am, while the other two were caught while the enforcement vessel was escorting the first two boats back to the detention jetty at 2.32 pm and 2.50 pm.
"The fishing boats tried to flee towards international waters when they were ordered to stop.
"The enforcement vessel had to overtake them and board the boats by force. All the fishermen on board were Vietnamese men aged between 16 and 61," she told a press conference here Sunday.
Khairun Dalilah said the four boats, 6,000 kilogrammes of fish on board; fishing, navigation, and communication equipment; and diesel seized in the operation are estimated to be worth RM3.86 million (about US$824,000).
"The case will be investigated under Section 6(1) of the Immigration Act 1963 for failure to provide any valid identity document, and the four skippers under Section 16(3) of the Fisheries Act 1985," she said.
A total of 17 Vietnamese fishing vessels with 137 fishermen and skippers on board have been detained by the Kelantan MMEA so far this year, with an estimated RM18.56 million (US$3.96) in seized items, she added.
-- BERNAMA