Shortlink :
https://oananews.org//node/668149
The shortlink copeid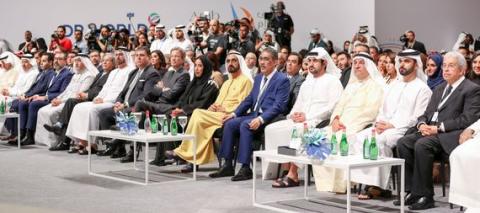 In The Presence Of A Large Media Presence, The Arab Media Forum Launched In Dubai
Baghdad, September 26, (NINA)- The work of the Arab Media Forum in its 21st session was launched today in Dubai.
The forum constitutes a knowledge platform to emphasize the important role of the media in supporting the path of sustainable development in societies. It is also a bridge to highlight the state's efforts in adopting sustainable practices through a package of pioneering projects and initiatives, in addition to supporting multilateral cooperation in confronting the repercussions of climate change, especially with the country hosting the twenty-eighth session of the Conference of the Parties to the United Nations Framework Convention on Climate Change (COP28) during the coming months of November and December in Expo City Dubai.
The forum will host a main session on media and climate change. The country has paid great attention to enhancing the role of media in the field of climate action, with its preparations to host COP28, and many pioneering initiatives have been announced in this regard, including the first Climate Media Council launched by the independent accelerators of the UAE Climate Change
The Forum provided a prominent platform for establishing a fruitful dialogue on climate-related topics, with the participation of experts and specialists.
In the context of the role of the media in climate action, awareness programs on sustainability and the environment are being implemented for Arab youth participating in the activities of the fifth edition of the Young Arab Media Leaders Programme, with the participation of 51 young men and women from 18 Arab countries, and in cooperation with 20 Arab and international media institutions.
The Arab Media Forum sheds light on the reality of Arab media and the extent to which it is affected by modern media trends and how to enhance the positive contribution of Arab media in creating a better future for our Arab world. It discusses the impact of technology on the future of media, especially with the tremendous development in the field of artificial intelligence, which is one of the most important developments that will change the shape of media.
The forum includes more than 75 sessions, with the participation of 130 speakers and 160 media institutions, and aims to shape the future of Arab media, by presenting inspiring experiences and presenting visions about the future of media, and exchanging expertise, ideas and experiences that contribute to anticipating the future of Arab media. /End