Syrian-Jordanian talks to boost parliamentary cooperation
Printer-friendly version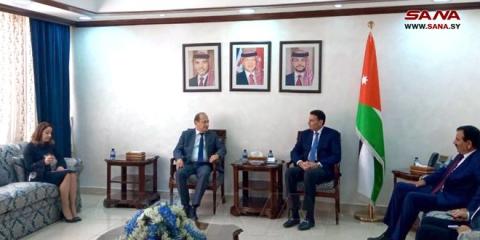 Amman, SANA- Speaker of the Jordanian Parliament, Ahmed al-Safadi, discussed with Chargé d'affaires of the Syrian Embassy in Amman, Essam Niyal ways to enhance parliamentary cooperation between the two countries, in addition to a number of issues of common interest.
Talks during the meeting dealt with the Arab role in resolving the crisis in Syria based on preserving its unity, stability and territorial integrity, and in accordance with the firm Jordanian position, which considers a peaceful solution to be the only way out to resolve this crisis.
the talks also affirmed that stability of Syria will reflect positively on the entire region.
Al-Safadi said that the history of the Syrian people and their positions with their nation are unforgettable.
Jordan and Syria have historical relations, and it is our duty in the parliaments of the two countries to work to overcome obstacles to the return of relations to normal in order to serve the issues of the Arab and Islamic nations and the interests of our two brotherly peoples, al-Safadi added.
In turn, Ambassador Niyal pointed out to the great Jordanian role in Syria's return to the Arab League, expressing his appreciation for the role of the House of Representatives and its positions in support of Syria.
Niyal noted the importance of the visit of the heads of Arab parliaments to Syria about three months ago.
Niyal expressed his thanks and appreciation for the Jordanian stances towards Syria.