Shortlink :
https://oananews.org//node/662718
The shortlink copeid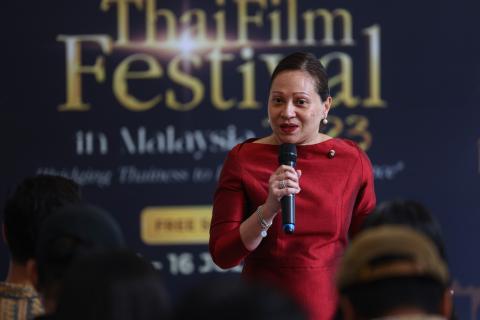 Thai Film Fest returns to Malaysia with five renowned movies
KUALA LUMPUR, June 23 (Bernama) — The Thai Film Festival returns to Malaysia on July 13 to 16 with five renowned films following the two successful events previously hosted by the Royal Thai Embassy in Malaysia in 2017 and 2019.
The festival, with the theme "Bridging Thainess to International Audience," will feature the films Faces of Anne (a psychological thriller), Love Destiny the Movie (a rom-com), Fast and Feel Love (a quirky comedy), Haunted Universities 2nd Semester (a horror film), and Friend Zone (a rom-com), according to Thailand's ambassador to Malaysia, Lada Phumas.
"Thai Film Festival provides even more opportunity for friends of Thailand to get to know Thailand better and promote social and cultural understanding of Thailand among our friends in Malaysia," she said during a press conference on the festival at the embassy, here Friday.
The public screening, according to Lada, will take place from July 14 to July 16 at a total of 21 showings at the GSC Mid Valley, GSC 1 Utama, GSC MyTown, and GSC IOI City Mall theatres in Kuala Lumpur, Selangor, and Putrajaya.
All screenings throughout the festival are free.
From July 7 to July 16, tickets can be redeemed online at https://www.gsc.com.my/ via the "GSC e-payment" option, a GSC mobile application, or a ticketing kiosk at one of the four designated GSC locations.
There can only be two tickets redeemed per ticket. Each screening's ticket availability and seating are determined by a first-come, first-serve policy.
Lada said a reception and special screening will be held on July 13 at GSC Mid Valley, which will be attended by the casts from Love Destiny the Movie, Paris Intarakomalyasut and Faces of Anne, Praewa Suthamphong and Jennis Oprasert.
As a token of appreciation to Malaysian Thai Fanclubs, she said the fans will be given an opportunity to get up close with the three casts during an exclusive meet and greet event at Hall 19, GSC Mid Valley also on July 13.
This event is free of charge but pre-registration is required with limited seats. There will be games, exclusive interview sessions, photo opportunities, and other interactions to look forward to, she said.
During the press conference, the Royal Thai Embassy also inked a memorandum of understanding (MoU) with a local film distributor, Suraya Filem & Distribution, to strengthen cooperation and future collaboration in Thai film, content, and production.
— BERNAMA