Turkish president vows to 'erase traces' of massive earthquakes
Printer-friendly version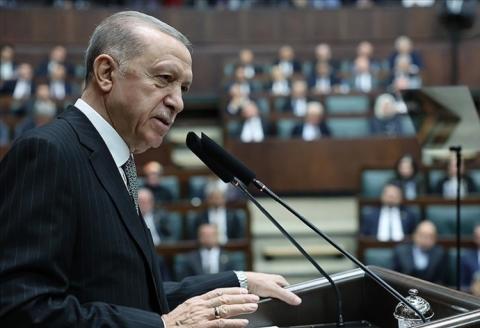 Baku, March 1, AZERTAC
Turkish President Recep Tayyip Erdogan on Wednesday promised to heal the wounds of victims of powerful earthquakes that hit the country's southern region last month, claiming more than 45,000 lives, according to Anadolu Agency.
"Hopefully, we will erase the traces of the Feb. 6 earthquake as soon as possible," Erdogan said at the Justice and Development (AK) Party's group meeting in parliament.
The magnitude 7.7 and 7.6 earthquakes, centered in Kahramanmaras, struck 10 other provinces – including Hatay, Gaziantep, Adiyaman, Malatya, Adana, Diyarbakir, Kilis, Osmaniye, Sanliurfa, and Elazig. Some 13.5 million people in Türkiye have been affected by the devastating quakes.
All scientists called the process "not an ordinary one," Erdogan said, adding: "Türkiye is seized by an earthquake storm."
"We will remove the debris, we will heal the wounds, we will replace the collapsed houses with well-constructed ones, we will win the hearts, we will build a new future and a new life for our people," he pledged.
Meanwhile, about the upcoming presidential and parliamentary elections in Türkiye, the president signaled that the elections will be held on May 14, as sticking to the previous plan.
"Know well that this nation will hopefully do what is necessary on May 14," Erdogan told the lawmakers.
Following the devastating quakes, there were rumors that elections could be postponed until later in the year or could be held as scheduled on June 18.
Erdogan previously said May 14 is the "most suitable" date for holding the elections.