Shortlink :
https://oananews.org//node/655531
The shortlink copeid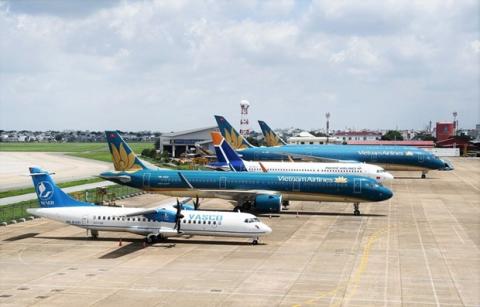 Vietnam Airlines Group to offer over 20 million seats this summer
Hanoi, March 15 (VNA) – Vietnam Airlines Group, which comprises Vietnam Airlines, Pacific Airlines and Vietnam Air Services Company (VASCO), has announced that it will provide more than 20 million seats on domestic and international routes from April to October, to meet travel demand in this summer's peak travel season. This figure represents an increase of nearly 25% compared with the same period last year. More than 14 million seats will be offered on domestic flights and the rest will be on international routes. Every day, there will be nearly 30 round-trip flights on the Hanoi-Ho Chi Minh City route and more than 35 round-trip flights between Hanoi/Ho Chi Minh City and Da Nang. Flight frequency may continue to increase during the holidays and peak summer periods. Vietnam Airlines plans to resume frequency on routes to Europe, Australia, China, Hong Kong (China) and Cambodia as well as to increase flights on peak occasions on routes to Japan and the Republic of Korea. The airline will raise the frequency from 6 to 7 flights per week on the Hanoi - Paris (France) route, from 8 to 10 flights per week on the route to Germany, from 3 to 5 flights per week on the route to the UK. The carrier will operate 7 flights per week, instead of 6, on the Ho Chi Minh City-Sydney and the Ho Chi Minh City-Melbourne routes. As for Asia, the airline will resume flights between China and Da Nang city from April 27. From July, Vietnam Airlines will increase the frequency of daily flights on routes between Hanoi/Ho Chi Minh City and Hong Kong (China) and Da Nang - Narita (Tokyo, Japan). In July and August this year, the national flag carrier plans to raise the frequency of flights between Ho Chi Minh City and Narita from 11 to 14 flights per week and add more flights between Hanoi/Ho Chi Minh City City and Siem Reap (Cambodia). To stimulate tourism demand in the coming time, Vietnam Airlines will introduce incentive programmes for passengers as well as participate in tourism promotion at domestic and foreign destinations. The airline plans to focus on those routes with strong potential but not widely known by tourists. It will also focus on upgrading the quality of products and services to meet the increasing requirements of passengers./.