FM Jeyhun Bayramov: Azerbaijan achieved significant progress in implementation of UN Sustainable Development Goals
Printer-friendly version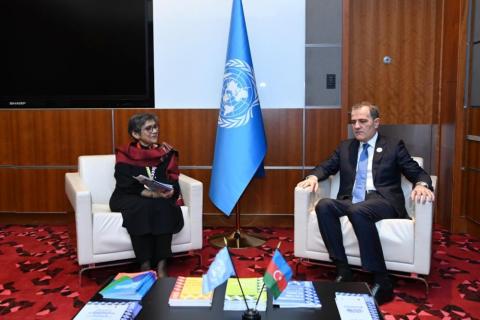 Baku, March 7, AZERTAC
As part of his working visit to the State of Qatar, Azerbaijan`s Foreign Affairs Minister Jeyhun Bayramov has met with the UN Under Secretary-General, High Representative for the Least Developed Countries, Landlocked Developing Countries and Small Island Developing States Rabab Fatima.
Minister Jeyhun Bayramov highlighted Azerbaijan`s close cooperation with the UN and its structures, Azerbaijan`s participation in implementation of humanitarian projects, aid to the underdeveloped countries and assistance programs for up to 130 countries.
The minister drew the Under Secretary-General`s attention to the scholarship and study programs of Azerbaijan.
He emphasized that Azerbaijan had achieved significant progress in implementation of the Sustainable Development Goals, and noted that measures are being currently taken in the country for the implementation, diversification, development of technologies.
Bayramov provided insight into the large-scale reconstruction projects implemented in the liberated territories, including the country's efforts to promote peace agenda as well as provocations of Armenia.
Rabab Fatima told of the operations of the UN High Representative's office to deal with underdeveloped countries.
Fatima expressed her hope that the large-scale projects implemented at the initiative and with the support of Azerbaijan would increase transport capabilities of the landlocked countries of the region and make a significant contribution to the implementation of the UN Sustainable Development Goals. She stressed the importance of Azerbaijan's assistance programs.