Shortlink :
https://oananews.org//node/667994
The shortlink copeid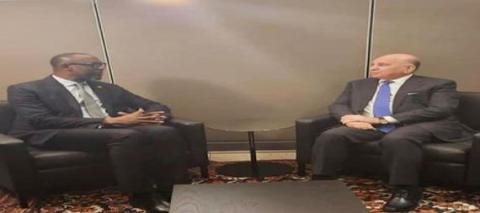 FM Proposes Signing A MoU With Mali In Several Areas
Baghdad / NINA / -Deputy Prime Minister, Minister of Foreign Affairs, Fuad Hussein, presented a proposal regarding signing a memorandum of understanding with the Republic of Mali in several fields.
A statement by the Ministry of Foreign Affairs stated, "Foreign Minister Fuad Hussein met with the Minister of Foreign Affairs of the Republic of Mali, Abdullah Diop, on the sidelines of his participation in the high-level week of meetings of the 78th session of the United Nations General Assembly, during which they discussed bilateral relations and prospects for joint cooperation between the two countries."
The Minister of Foreign Affairs stressed, "Iraq is keen to develop its relations with the African continent in the next stage, out of its belief in the growing role of the countries of this continent on the international scene."
The statement continued, "During the meeting, views were exchanged regarding the current situation in the Republic of Mali, as Diop stressed his country's endeavor to benefit from the expertise that Iraq possesses in the field of combating terrorism, protecting borders, and neutralizing terrorist groups."
For his part, Minister Hussein indicated "the possibility of cooperation in this regard," suggesting "signing a memorandum of understanding between the two countries in several fields."
He stressed "the importance of establishing a joint committee for the purpose of determining priorities and discussing ways of joint cooperation in several fields to serve the interests of the two countries."/End