Hanoi international marathon slated for October 8
Printer-friendly version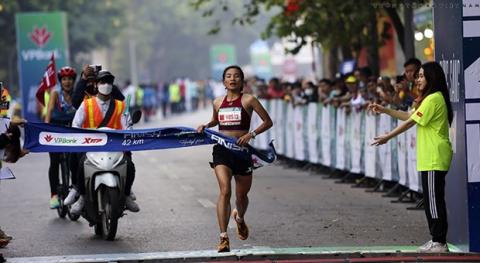 Hanoi, March 17 (VNA) – The Hanoi VPBank International Marathon (VPIM) 2023, an official annual sporting event of the capital city, is scheduled to take place on October 8.
The non-profit race, an activity to mark the Capital Liberation Day (October 10), is expected to attract about 10,000 professional and amateur runners this time, the organising committee told a press conference on March 16.
Sponsoring marathon races in Hanoi for many years, the Vietnam Prosperity Joint Stock Commercial Bank (VPBank) has been licensed by the municipal People's Committee to organise the international competition in Hanoi from 2023.
Dinh Van Luyen, head of the sports management division at the municipal Department of Culture and Sports, said the race is a professional international event giving participants a chance to gain experience and improve their performance, adding that Hanoi hopes to host more international marathon tournaments to help promote the local sports movement.
Nguyen Truong Linh, a representative of the organising committee, said such big cities in the world as London, New York, Berlin, and Tokyo have their own symbolic running races, so the VPIM organising committee hopes that this event will also become one of the symbols of Hanoi.
With the participation of a large number of international runners, the October event is also expected to help popularise local tourism and the beauty of Hanoi in autumn, he noted.
All revenue from the VPIM will be used to improve the race's quality to bring about the best experience to athletes and also contribute to charitable activities, according to Phung Duy Khuong, Standing Deputy General Director of VPBank.
Race registration for the race is now open at http://vpbankmarathon.com.-VNA