HCM City, UK agree to enhance trade, investment ties
Printer-friendly version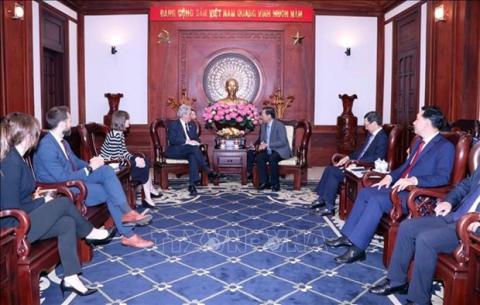 HCM City, March 17 (VNA) – Ho Chi Minh City and the UK should strengthen cooperation in trade and investment, Chairman of the municipal People's Committee Phan Van Mai said on March 16.
The collaboration should focus on the exchange of experience in building legal mechanisms, the implementation of a project on building the HCM City financial centre, the establishment of an innovation centre of HCM City, first in health care, and the research and manufacturing of drugs and medical equipment, Mai told Mark Garnier, the British Prime Minister's Trade Envoy for Vietnam, Thailand, Myanmar and Brunei.
The official stressed that HCM City benefits from good relations between Vietnam and the UK, and that the city wishes to work together with the UK to step up trade activities to soon fulfill the target of raising bilateral trade to 1 billion USD right in 2023 when the two countries celebrate the 50th anniversary of their diplomatic ties.
HCM City will coordinate with the British Consulate General in the city and British partners to implement the agreements, contributing to consolidating and promoting the Vietnam-UK relations, he affirmed.
For his part, Garnier expressed his impression on the dynamism and development potential of Vietnam and its southern economic centre in particular, and pledged to work harder to enhance the trade and investment links between the UK and Vietnam and the city as well.
British firms are always interested in and ready to cooperate with HCM City in materialising the plan of building the city into a regional financial centre which is competitive globally, he said.
They are also fully aware of HCM City's potential and demand in health care and drug research, and wish to step up cooperation with the city in this regard, and promised to support the southern metropolis in development, the envoy continued.
The UK is willing to cooperate and assist HCM City in high-quality personnel training in service of banking, financial and medial sectors, thus contributing to fostering the trade and investment ties between the two sides and the two countries at large, he stressed.-VNA