Shortlink :
https://oananews.org//node/667889
The shortlink copeid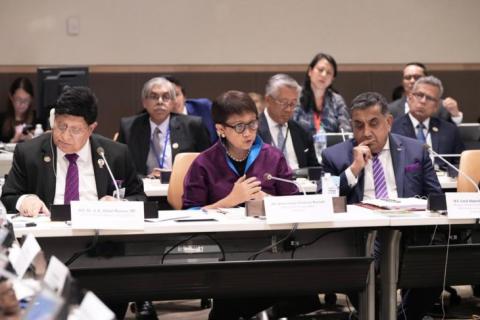 Indonesia calls for political solution to Rohingya issue
Jakarta, September 23 (ANTARA) - Indonesian Foreign Minister Retno Marsudi has called for a political solution to the Rohingya issue, which is considered an inseparable part of resolving the crisis in Myanmar.

At a meeting on the Rohingya issue on the sidelines of the 78th session of the UN General Assembly in New York, the United States, on Thursday, Marsudi underlined that the future of Rohingya refugees remains uncertain.

At the same time, the global situation and the condition in Myanmar have made the issue more difficult to resolve.

"Resolving the Rohingya issue should be part of resolving the political crisis in Myanmar," she underlined during an online press briefing that was broadcast on the Ministry of Foreign Affairs' YouTube channel.

The minister said that the reintegration of the Rohingya people into Myanmar society must be made part of an inclusive national dialogue agenda, as encouraged by ASEAN in the Five-Point Consensus, which was agreed as a solution to Myanmar's political crisis.

She also emphasized that the repatriation of Rohingya refugees from Bangladesh voluntarily, safely, and with dignity must be enabled.

"I also stated that ASEAN will continue to give contribution and ASEAN will never forget about Rohingya," she said.

Furthermore, she emphasized the importance of ensuring the availability of humanitarian assistance.

"Currently, more than one million Rohingya people are displaced and have become refugees, while those living in the Rakhine region are also facing a very difficult situation. They are vulnerable to becoming victims of organized crimes," she said.

The meeting on "Have they Forgotten Us? Ensuring Continued Global Solidarity with the Rohingya of Myanmar" on Thursday was sponsored by Bangladesh, Indonesia, Canada, the Gambia, Malaysia, Türkiye, the United Kingdom, and the US.

The meeting aimed to revive the attention and solidarity of the international community toward the Rohingya people.