Shortlink :
https://oananews.org//node/667907
The shortlink copeid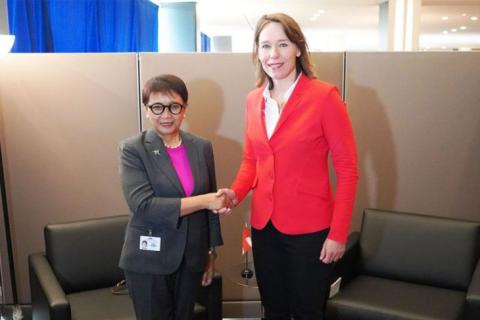 Indonesia seeks Dutch government's support for its OECD membership bid
Jakarta, September 23 (ANTARA) - Foreign Affairs Minister Retno Marsudi sought the Dutch government's support for Indonesia's proposal to become a member of the Organization for Economic Cooperation and Development (OECD).
Marsudi conveyed the request for support during a bilateral meeting with Dutch Foreign Minister Hanke Bruins Slot during the 78th session of the UN General Assembly in New York on Friday (September 22).
According to a written statement released by the Foreign Ministry, Minister Marsudi praised the Dutch's support for Indonesia's OECD candidacy.
Marsudi and Slot both expressed hope that Indonesia, on becoming an OECD member, would contribute to collective efforts in overcoming global challenges.
Meanwhile, at a recent meeting, the OECD, with its 38 members, welcomed Indonesia's intention to join the organization.
However, the Coordinating Minister for Economic Affairs Airlangga Hartarto believes that Indonesia still needs to harmonize regulations with the 200 standards set by the OECD.
Given the long and difficult process, it is estimated that Indonesia will only be able to accede to the OECD in the next four to five years.
The OECD is an intergovernmental organization whose mission is to create a stronger, cleaner, and fairer global economy.
By becoming an OECD member, Indonesia is expected to escape the middle-income trap, akin to what South Korea has accomplished.
With wider access to markets in the 38 OECD member countries, which have the same standards and best practices, Indonesia is seeking to improve multilateral investment and trade.
Meanwhile, with Indonesia joining, OECD's global reach will expand, especially in the Southeast Asian region.
Apart from the Dutch, Indonesia is also seeking support from other OECD countries, including the United Kingdom and Japan.
On the same occasion, Marsudi welcomed Minister Slot's plan to visit Jakarta next month in the framework of strengthening relations between the two countries.