Interests of People of determination given priority in Bahrain: Speaker
Printer-friendly version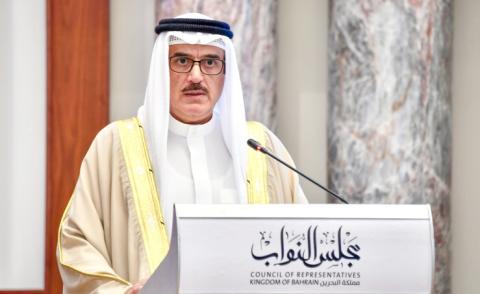 Manama, May 31 (BNA): Speaker of the Council of Representatives, Ahmed bin Salman Al-Musallam, has affirmed that His Majesty King Hamad bin Isa Al Khalifa's humanitarian approach places people of determination among national priorities, as reflected in the kingdom's plans, programmes and strategies.

He indicated that the legislative and executive branches and NGOs are doing their utmost, with Team Bahrain, supported by His Royal Highness Prince Salman bin Hamad Al Khalifa, the Crown Prince and Prime Minister, to support people with special needs by enabling them to participate effectively in developing the state of law and institutions and contribute to enriching the kingdom's comprehensive development process.

While addressing that the Parliamentary Forum for People of Determination 2023, held here today under his patronage, Al-Musallam stressed that the Representatives Council has promoted community partnership in all its programmes and plans.

He emphasised that the Representatives Council has always confirmed the need to preserve the rights of people of determination by meeting their needs and providing them with the requirements of decent living, including education, housing, health, work, care and supportive services, based on the provisions of the National Action Charter and the Constitution.

He added that the draft-law on the 2023-2024 general state budget, approved by the Representatives Council yesterday, proved anew the great interest the legislative and executive branches attach to people with special needs.

He unveiled the Representatives Council's launch of the "Empowerment of People of Determination Prize", which will recognise initiatives and programmess launched by official and civil entities and individuals to serve people with special needs.

Speaker Al-Musallam expressed thanks and appreciation to the organisers and participants in the forum for their efforts to ensure its success.

He pledged that the recommendations and outcomes of the forum will be given priority by the Council of Representatives in order to ensure the delivery of better services for people of determination, in cooperation with the executive branch.