Shortlink :
https://oananews.org//node/667905
The shortlink copeid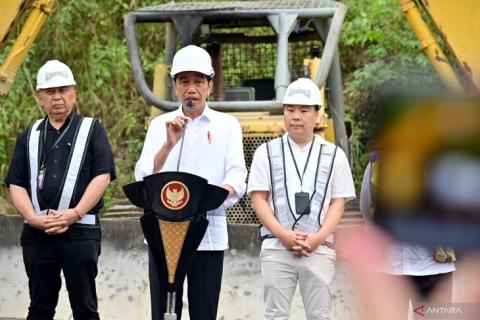 Investing in IKN Nusantara is right decision: President Jokowi
Jakarta, September 23 (ANTARA) - President Joko Widodo (Jokowi), on Saturday, reiterated that investing in the new capital city (IKN) Nusantara, North Penajam Paser, East Kalimantan, would be a fruitful decision.
During the groundbreaking event of Vasanta Hotel in the IKN development area, the president expressed belief that business actors had made careful calculations before deciding to invest in Indonesia's future capital city.
"I would like to thank those who had invested their capital. I do believe that investors had initially carried out thorough calculations before investing here. The investments will not be in vain," he remarked.
The president noted that the development of IKN Nusantara involves not only the Indonesian government but also business players.
"We would like to tell the world of business that business actors have joined the government in developing the new capital city Nusantara," he remarked.
Furthermore, the head of state instructed parties to conduct groundbreaking events of various development projects in IKN on a monthly basis.
Jokowi also spoke of having planned on routinely visiting the Nusantara development site every month to inspect the progress in its development.
"I demand that a groundbreaking be held every month, and I will come here from month to month," he stated.
President Jokowi then expressed hope that by holding groundbreaking events every month, the government and all related parties would expedite the development of IKN Nusantara.
The head of state expressed hope that more facilities and infrastructure, such as hotels, hospitals, universities, and zoos, would be built in Nusantara.
"We have discussed the imminent start of construction of zoos and other (infrastructure) in the new capital city Nusantara," he stated.
Vasanta Hotel was the second hotel in IKN whose groundbreaking event had been attended by President Jokowi after that of Nusantara Hotel held on Thursday (September 21).
Furthermore, on Friday (September 22), the president also partook in the groundbreaking event of a training center of the Indonesian Football Association and Abdi Waluyo Hospital in Nusantara.
According to the plan, the government is developing IKN by optimizing funds cornered from cooperation schemes and investments made by private actors. Furthermore, the government aims to use the State Budget (APBN) for only 20 percent of the total development budget required.
The government has allocated a budget of Rp34.9 trillion (US$2.2 billion) from APBN for 2022 and 2023 for the development of the new capital city.
In detail, the development of IKN absorbed as much as Rp5.5 trillion (US$358 million) of APBN in 2022. As for this year, the government has allocated a total of Rp29.4 trillion (US$1.9 billion) for IKN.
Meanwhile, Rp40.6 trillion (US$2.6 billion) is planned to be allocated for the new capital's development in the 2024 APBN.