Miss World Vietnam supports UNICEF's initiative to promote healthier food environments
Printer-friendly version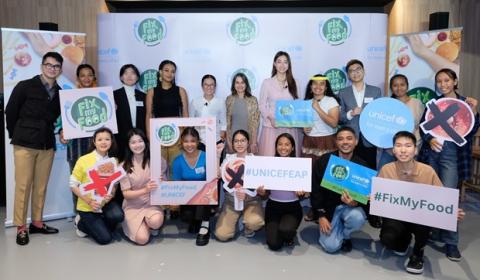 Bangkok, March 8 (VNA) - Miss World Vietnam 2019 Luong Thuy Linh has joined a campaign in response to the "Fix My Food" initiative by the United Nations Children's Fund (UNICEF) aiming to promote healthier food environments for children in East Asia and the Pacific.
The food systems in East Asia and the Pacific, known for its diverse and vibrant food culture, is changing rapidly, according to UNICEF.
Traditional healthy fresh food diets are being replaced by an increasing consumption of highly processed 'junk' food and drink full of sugar, salt, and unhealthy fats.
Given this, UNICEF has been working closely with governments and partners to introduce policies and legislation to curb the increase in marketing of unhealthy food and drink, such as bans on advertising and sale of unhealthy foods in and around schools, clear front-of-pack nutrition labelling, and taxes on sugar-sweetened beverages amongst others.
To further promote the need for healthier food environments, UNICEF is supporting the "Fix My Food" campaign led by young people to raise awareness of the need to create healthier food environments in China, Cambodia, Federated States of Micronesia, Fiji, Mongolia, Solomon Islands, Timor-Leste, and Vietnam.
Young people, together with celebrities and influencers from these eight countries were part of a two-day co-creation "Fix My Food" workshop in Bangkok - brainstorming ideas and identifying potential partners to help roll out the campaign in their respective countries in February.
Linh was part of the co-creation workshop and launch event.
"I strongly believe in healthy eating and healthy lifestyles and have joined this campaign with the hope that together we will be able to change our failing food system. We need to ensure that people, especially children and young people, have the opportunity and the right to make healthy food choices, wherever they are, at home, in and around schools, and in their communities," said Linh.
With the young people leading the "Fix My Food" campaign and support from celebrities and influencers, UNICEF hopes to create awareness on the impact of the changing food environment in the lives of girls and boys and the urgent need for governments, the private sector and civil society to take collective action to build a healthier food environment across the region.


As part of UNICEF's work to mobilise and empower young people to take action, this initiative will be implemented in the eight participating countries and will be supported by UNICEF country offices and partners./.