NHRC Launches Right and Duty Campaign to Promote Municipal Council Elections Participation
Printer-friendly version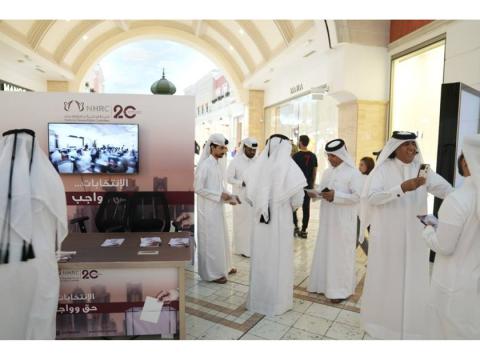 Doha, May 30 (QNA) - The National Human Rights Committee (NHRC) announced Tuesday the launch of a campaign in Doha's malls aiming to educate nationals about their rights and duties to elect Municipal Council representatives in the polls due on June 22.
The 'right and duty' campaign seeks to elevate awareness and stresses the importance of participating in the elections as a responsible and conscious practice that reflects democracy and enabling citizens to be part of the decision-making process and the country's public policy, a statement from the NHRC read.
The transparent general elections are an advanced mechanism to embody the principle of citizen participation, and affirm the values of equal citizenship and national responsibility, the statement added.
Director of NHRC's Programs and Education Department Hamad Salem Al Hajri said the campaign was launched in Villagio Mall, and it would move to other malls respectively, to raise awareness of the importance of participating in the elections.
This is one of the NHRC's efforts to educate all citizens on the voter lists about one of their basic rights to elect, Al Hajri said, adding the campaign would go on to encourage and urge citizens and educate them about their rights and duties during the course of the electoral process.
The right to vote is a fundamental pillar to ensure that all citizens enjoy other human rights, based on the principle of human rights' interdependence and indivisibility, he added.
Al Hajri stressed the NHRC's endeavors to enhance the participation of women, the elderly and people with disabilities, as groups that need to overcome the obstacles that prevent them from exercising their right to vote, in implementation of Article 34 of the Constitution that stipulates that the citizens are equal in public rights and duties, and Article 42 that the State guarantees the citizen's right to elect and to run for public office, according to the law.
These social segments' participation in the elections indicates Qatar's commitment to the provisions of international human rights conventions to which it is a signatory, and leads to the realization of the principle of universal, non-discriminatory suffrage, he added.
Al Hajri noted that the participation of these social groups in the elections means that their needs, issues and problems have become the focus of attention from voters and candidates. (QNA)