President Ilham Aliyev: Azerbaijan was very active in institutionalization of NAM
Printer-friendly version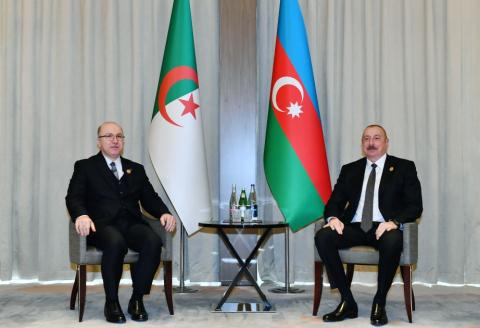 Baku, March 2, AZERTAC
President Ilham Aliyev said Azerbaijan's Non-Aligned Movement chairmanship would end by the end of the year, and underlined that the chairmanship was very active in institutionalization of the Movement, as he met with Prime Minister of Algeria Aïmen Benabderrahmane.
President Ilham Aliyev recalled his participation in the 31st Arab League Summit at the invitation of President of Algeria Abdelmadjid Tebboune.
The head of state noted that, as part of the trip, discussions were held on the prospects for bilateral relations between Azerbaijan and Algeria.
President Aliyev pointed out that Azerbaijani specialists including oilmen, geologists and culture figures are successfully working in Algeria.