President Ilham Aliyev met with President of Turkmenistan Serdar Berdimuhamedov
Printer-friendly version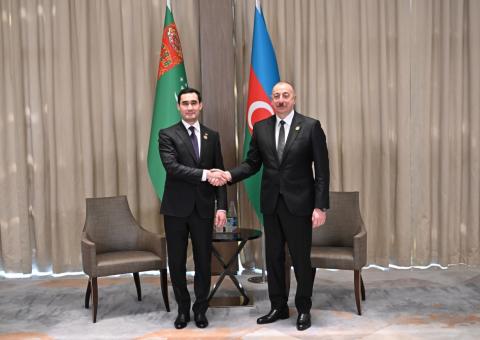 Baku, March 2, AZERTAC
President of the Republic of Azerbaijan Ilham Aliyev has met with President of Turkmenistan Serdar Berdimuhamedov.
The President of Turkmenistan expressed his gratitude to the head of state for inviting him to attend the Summit-level Meeting of the Non-Aligned Movement Contact Group in response to COVID-19, emphasized that Azerbaijan was active in the Non-Aligned Movement during its chairmanship, and congratulated President Ilham Aliyev on this occasion.
Serdar Berdimuhamedov noted that the Movement plays an important role in maintaining international peace and security. He also stressed that special attention was paid to the fight against the pandemic as part of the Non-Aligned Movement.
President Ilham Aliyev thanked President Serdar Berdimuhamedov for his participation in the Summit-level Meeting, adding that this event created good opportunities for discussions on the bilateral ties.
The head of state underlined that Azerbaijan always pays special attention to the development of bilateral relations with Turkmenistan, hailed the political dialogue between the two countries, adding that cultural and humanitarian ties were developing.
Presıdent Ilham Aliyev said that Azerbaijan's Non-Aligned Movement chairmanship is set to end. The head of state underlined Azerbaijan is interested in enhancing the role of the Movement, adding the country came forward with a number of initiatives to this end. At the same time, he noted that the world order today is in the process of reshaping and the Non-Aligned Movement should play its role in this process.
President Ilham Aliyev underlined that very close political ties between the two countries rest on a solid foundation, saying that there are ample opportunities for cooperation between Azerbaijan and Turkmenistan in energy, cotton cultivation, transport, investments and other spheres.
The head of state added that Azerbaijan is ramping up its transport-transit capabilities and it provides additional opportunities in the future for shipment of Turkmenistan's goods through Azerbaijan.
The sides also shared their views on the issues of mutual interest.