Shortlink :
https://oananews.org//node/667993
The shortlink copeid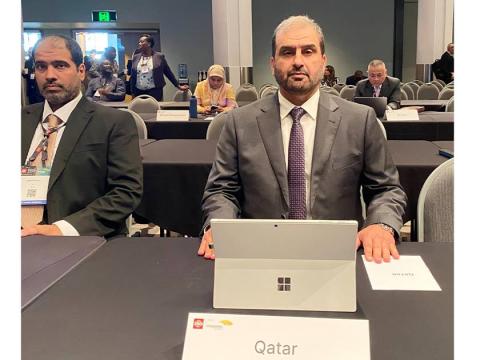 Qatar Participates in Annual Meeting of International Organization for Standardization 'ISO'
Brisbane, September 24 (QNA) - The State of Qatar, represented by Qatar General Organization for Standards and Metrology (QGOSM), participated in the annual meeting of the International Organization for Standardization (ISO), held in Brisbane, Australia.
HE Chairman of QGOSM Eng. Mohammed bin Saud Al Musallam led the State of Qatar's delegation to the meeting, as QGOSM has been representing Qatar in ISO since 1993.
This annual meeting of ISO is an opportunity to share perspectives on standard specifications in making life easier, better, and safer. This year's edition is held under the theme "Meeting global needs" to highlight the most pressing challenges facing the planet today, as well as aspiration to joint solutions, according to QGOSM's statement.
The annual meeting of ISO included an array of legislative sessions and panel discussions starting from the meeting of the Committee to Support Developing Countries (DEVCO), in the presence of ISO President Ulrika Francke, alongside representatives of the member states to further discuss reports of the professional work teams and progress of the action plan related to developed countries.
In a related context, the State of Qatar participated in the 45th session of ISO General Assembly to discuss a set of procedural and executive items, including the report submitted by ISO Secretary-General on global challenges pertinent to environment, energy, and economy.
The accomplishments of ISO were discussed, including works and achievements within the framework of ISO strategy 2030. The report concluded by highlighting future predictions and challenges facing standardization and standard specifications, as well as readiness of ISO and its members to face the future.
The meeting of ISO General Assembly appointed the president of the organization, in addition to electing several members in vacant seats of ISO board of directors from 2024-2026 and appointing the vice-president of ISO policies from 2024-2025.
Being representative of the State of Qatar, QGOSM has been keen to cast its vote to select candidates for the board of directors.
In addition, the meeting was punctuated by several workshops and panel discussions on Artificial Intelligence (AI), combating climate change, cybersecurity threats, food waste, reduction of plastic waste, as well as other critical topics by highlighting the function that can be discharged by the international standard specifications with the engagement of the member states, including an effective role required to address those topics and submit practical solutions accordingly. (QNA)