Sheikha Fatima Bint Mubarak receives the First Lady Mrs. Asma al-Assad
Printer-friendly version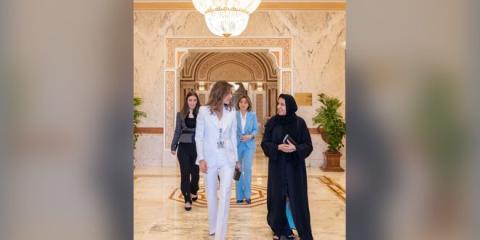 Abu Dhabi, SANA- The "Mother of the Emirates", Her Highness Sheikha Fatima bint Mubarak has received the First Lady Mrs. Asma al-Assad and the accompanying delegation at " Al Bahr Palace " in the UAE capital, Abu Dhabi.
The meeting dealt with the multiple aspects of cooperation in humanitarian action, social development and multifaceted empowerment, as well as the possibility of deepening joint initiatives between the various non-governmental bodies of the two brotherly countries, particularly after the earthquake hit Syria to alleviate the suffering of its victims as far as possible.
Mrs. Asma al-Assad thanked the UAE and its people for their emergency response after the earthquake.
She highlighted the role of Sheikha Fatima Bint Mubarak for her generous initiative to offer treatment to some cases of victims of the earthquakes in the UAE.
Sheikha Fatima, in her turn, underlined the deep relations between the two countries and peoples, pointing out that the UAE will continue mitigating the repercussions of the earthquake.