Spokesperson for the Ministry of Foreign Affairs: Qatari Airbridge Carried 281 Tons of Aid, Evacuated 1,620 Qatari Residence Holders from Sudan
Printer-friendly version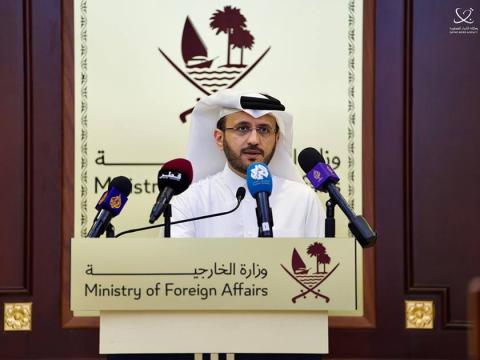 Doha, May 30 (QNA) - Advisor to the Prime Minister and Minister of Foreign Affairs and Spokesperson for the Ministry of Foreign Affairs Dr. Majed bin Mohammad Al Ansari stressed that the Qatari airbridge has been ongoing since the start of the fighting in Sudan to provide medical, relief and humanitarian aid to those affected. Yesterday, May 29, the ninth plane took off to Port Sudan, carrying 50 tons of food and evacuating 199 people, bringing the total of those evacuated from Sudan who hold Qatari residency to 1,620 people, and the aid provided through the air bridge so far amounts to 281 tons.
In the Ministry of Foreign Affairs' weekly media briefing, Dr. Al Ansari added that the visit to Qatar Special Envoy of Chairman of Transitional Sovereignty Council of the Republic of the Sudan, Ambassador Dafallah Al Haj Ali, comes as part of his tour to the region and within the framework of efforts to search for solutions to the crisis there, and to facilitate humanitarian aid and stop the fighting.
The official spokesman for the Ministry of Foreign Affairs confirmed that the State of Qatar gives priority to the humanitarian aspect and stopping the fighting there, and fully supports the efforts of the Kingdom of Saudi Arabia in calming the situation as well as the agreements that were signed in Jeddah within the broader regional role of the League of Arab States, adding that this was confirmed during the visit.
He explained that the storming of the Qatari embassy in Khartoum was by irregular armed gangs, and there were no diplomats or employees present at the embassy. He also said that some property was vandalized and stolen, stressing the need to spare diplomatic missions and headquarters of international organizations and civil institutions in Sudan.
On the nature of ties between the State of Qatar and the Republic of Turkey following the victory of President Recep Tayyip Erdogan in the presidential elections, Dr. Al Ansari affirmed that the relationship between the two countries is strategic and between the various institutions in the two countries, including the presidency, and the relationship between HH the Amir Sheikh Tamim bin Hamad Al-Thani HE President Erdogan are fraternal, personal and close, adding that he expects the continuation of these relations within their natural framework.
He added that the relationship between the two sides is developing and strengthening positively, and the next stage will have more development, especially since Qatar has played a large part of its role with regard to the victims of the earthquake that struck Turkey and northern Syria, where an integrated city was opened in northern Syria to house a very large number of Syrian refugees. This cooperation between the two countries aims to provide a decent life for the refugees there and constitutes an example of the nature of the role that countries play in the region and the world in general.
The Spokesperson for the Ministry of Foreign Affairs reviewed the ministry's efforts during the past days and the interviews conducted by Qatari officials at home and abroad, which aim in their entirety to strengthen bilateral relations and discuss areas of cooperation in various fields and ways to enhance and develop them. (QNA)