Vietnamese cook wins four medals at Malaysia contest
Printer-friendly version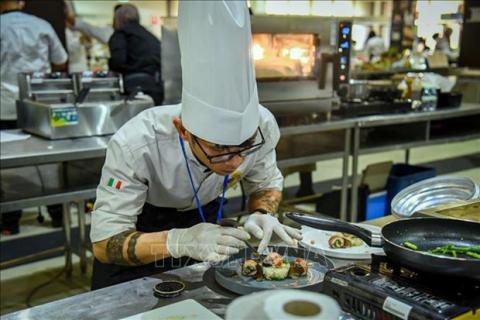 Hanoi, March 9 (VNA) – A chef in a restaurant in Da Lat city, Central Highland province of Lam Dong, has brought home two gold medals and two silver medals at the Malaysia Culinary World Cup 2023 that took place in Malaysia on February 21-23.
Doan Thanh Dien, born in 1990, works for Tam Lua Restaurant in Da Lat city and registered to join the competition in Malaysia, intending to make typical Vietnamese dishes with ingredients available in Da Lat.
However, his team faced trouble when a member, who is responsible for taking necessary ingredients to the competition, lost his passport and could not travel to Malaysia.
Dien had to switched to other dishes using ingredients that are available at local markets, which he said was quite a challenge for his team.
They then met with another problem when all the tableware they brought along were broken during the process of transport and they had no money to buy new ones, so they had to borrow.
After all the challenges, Dien and his team are so happy that all four dishes that he cooked won medals, with two gold and two silver.
Nguyen Thi Bich Ngoc, Deputy Director of Lam Dong province's Department of Culture, Sports and Tourism said that cuisine is a highlight of Da Lat - Lam Dong tourism.
She hopes that in addition to developing his restaurant chain, Dien will continue to use agricultural products of Da Lat and Lam Dong province to promote the quintessence of local cuisine.
Malaysia Culinary World Cup 2023 attracted more than 1,000 contestants from 20 countries around the world. The jury consists of nearly 130 famous chefs and culinary experts from many countries like the UK, Italy, Turkey, Australia, China, India, Egypt, Thailand, Singapore and Vietnam. There were three teams from Vietnam./.