Shortlink :
https://oananews.org//node/671585
The shortlink copeid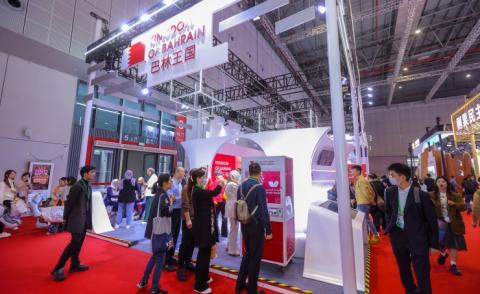 Bahrain Pavilion at CIIE 2023 concludes its activities successfully, secures potential partnerships, agreements
Shanghai, Nov. 20 (BNA): The Bahrain Pavilion participated in the China International Import Expo (CIIE 2023) held from November 5 to 10 in Shanghai, People's Republic of China, alongside over 145 countries. The pavilion, organised by Export Bahrain in collaboration with strategic partners Bahrain Institute for Pearls and Precious Stones 'DANAT' and Exhibition World Bahrain, showcased over 20 products from various national sectors, aiming to enhance commercial and economic cooperation between the two countries. The participation also aimed to open new export channels for Bahraini enterprises in international markets and promote local products and services globally.

Over the five-day event, the Bahrain Pavilion attracted significant attention from visitors, officials, decision-makers, entrepreneurs, investors, and strategic partners worldwide, recording over 1 million visitors according to the bureau statistics. Resulting in 16 deals facilitated for Bahraini based businesses in different sectors including watches, spices, perfumes and others. Alongside over 10 other potential deals being discussed for the near future making this participation in the sixth edition of CIIE a great success.


On the sidelines of the expo, Export Bahrain and the e-commerce giant Alibaba.com signed a memorandum of understanding, marking a significant step towards enhancing promising opportunities for global trade. This cooperative agreement signals a new era in commercial relations, propelling Bahraini businesses into global markets. The memorandum was signed during the 6th China International Import Expo in Shanghai, representing a historic collaboration. It followed discussions held during a high-level trade delegation visit to the People's Republic of China led by HE Abdullah bin Adel Fakhro, Minister of Commerce and Industry.


Over 40 Business meetings and working sessions were also organized by Export Bahrain for its partners at the pavilion, anticipating potential collaborations between Exhibition World Bahrain and relevant entities in the People's Republic of China. This aims to strengthen Bahrain's position as a leading destination on the global map for exhibitions, events, and business, attracting more future investments and economic and trade activities to the region.


Fatima Aziz Rustom, Executive Director at Export Bahrain, commended the outstanding representation, reflecting Bahrain's regional and global prominence in various fields. She emphasized the importance of promoting local products and services and the need for collaboration to build strong economic and trade partnerships, confirming the dedication of Export Bahrain to this endeavor.

Export Bahrain's efforts align with the Vision 2030 goals, diversifying the national economic income sources and promoting economic growth.